Buy Painted Miniatures & Terrain by CabanaMinis
You can buy many of my pre-painted miniatures & terrain here:  www.kinggames.dk – From a danish miniatures & board games webshop called King Games. Everything for sale in the prepainted category is painted by me.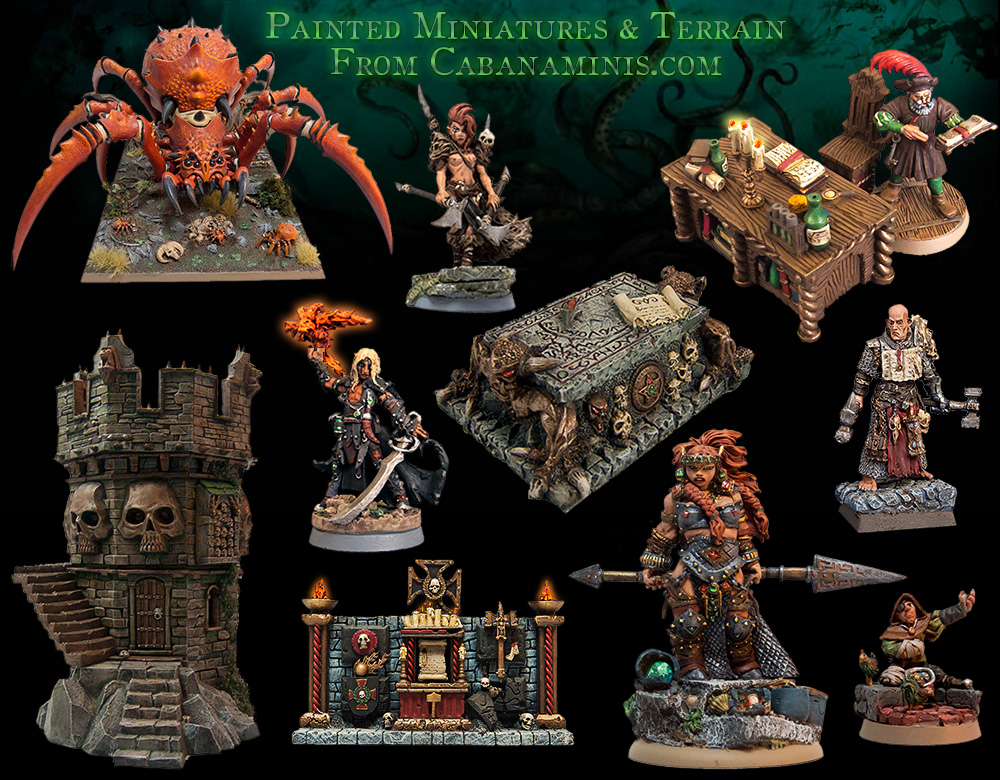 About my Pre-Painted Products:
Many of the painted items I sell are fantasy miniatures and terrain / dungeon furniture mainly for RPGs but also tabletop-gaming. Nothing I sell is speed-painted, I carefully paint everything I put up as good as possible and do my best to maintain a standard that I can personally be proud of.
The items are however meant to be played with and are not display miniatures, so don't expect insane freehanding etc. ;) – Careful handling is of course still highly recommended, especially metal figures can easily chip paint if not handled with care.
Shipping, Handling & Payment: 
I ship to all countries in the World, the prices vary depending on weight and destination country. All packages are packed VERY carefully, and so far I've only experienced one package where the content have been slightly damaged.
Since I've already painted everything that I sell, all orders placed will be shipped within 1-2 days – Delivery time depends on destination country. Paypal and credit card can be used as payment method in the shop.
Purchasing from outside of EU:
Remember that if you're shopping from USA or any country outside of EU no VAT will be added to your orders and the prepainted products are actually 20% cheaper than they appear in the shop – This will be subtracted once checking out and selecting the delivery country.
Returns & Repairs: 
Should you not be happy with your purchase, you can of course get your money refunded. Just send the items back to me packed in the same condition as they arrived in.
If something should be damaged during shipping(Has only happened for me once), just write me a mail and we'll figure out how to sort it out, repairs are possible.
Commission Work:
I generally don't do commission work, but if it's something that I enjoy painting I might be up for the task, usually I just prefer not to be too restricted regarding colors and so on. If you have any questions or commission requests you can send a mail to: prepainted @ kinggames.dk
Additional Information:
Here you can see a lot of the products that I have previously sold in the shop: Sold Out Products