Warhammer Fantasy Roleplay 4th Edition is finally out! Atleast the PDF version. We are still waiting on the physical collector's edition and the standard rulebook (yes we bought both, so we both had a hard copy)
We have spent the last few evenings making characters and trying the new system, which should be simular to 2nd edition, but as we never played that edition, we had to learn it from scratch!
We are now converting our heroes from our homebrew into 4th edition, which is a little harder than we thought.
Ozzy our Rogue from a scrappy background becomes a thief, our hunter Max who has a background as the son of a Lord is now a bounty hunter, while Dagna our dwarven shieldmaiden goes through some sh*@ and ends up as a Troll Slayer! Yes, they can be female in our campaign! 'Cause, why not?
One of the requirements for her to advance her career is killing a troll. Which is perfect, since we already have Wanted poster handouts for trolls in the vicinity of Krugenheim (city in eastern Talabecland).
So now I'm working on the trolls for the encounter. Often it's one or two trolls for such a contract, but we thought it would be really cool to have a leader for them! So today I will be working on the Troggoth Hag from Forgeworld and hopefully get her and some of her sons ready by next month.
I've already painted one of her sons a little while ago, so here he is in all his glory!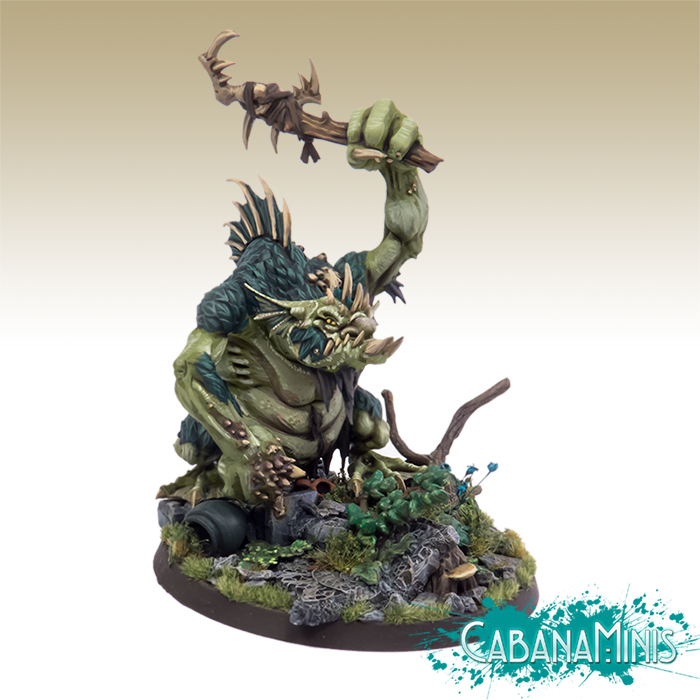 My husband made and painted the 75mm (3″) base while I painted the flowers and ivy on it. The blue skinny flowers are from our garden which I dried and painted in vivid colours.
The troll itself is painted with Reaper paints. Mostly the Olive Green triad from Reaper consisting of Muddy Olive, Olive Green and Pale Green which I shaded and glazed with dark purples. I think it gives him a more evil look! I used Burgundy Wine to make a glaze (heavily thinned paint) and made a wash using Reaper's Wash Medium. Claws and Spikes were painted with Brown Sand, Driftwood Brown and Stained Ivory. The dark green scales are painted with Scale75's Black Forest Green highlighted with Black Forest Green mixed with Fall Green and finally a slight highlight of Olive Green to connect the scales with the skin.
Finally a couple of more pictures of the handsome troll! I really like these plastic River Trolls (or troggoths!) from Games Workshop. I had them before, but decided to sell them and make new ones. I'm also working on another troll brother which is my favourite of the ways to assemble the trolls: The guy with the fish!