Update: I won 1st place! Still haven't fully processed it, and I'm in complete awe! But can't wait to spend the €300!
Big thanks to Tabletop-World!
Okay, so recently we decided we would join the annual Tabletop World competition with a building in their single building category (there is also diorama) and we decided their Townhouse II as our entry.
Since their houses are barely 28mm scale, we chose some miniatures from Dark Sword's George R.R. Martin Masterworks (Game of thrones) miniature line. Tom Meier doesn't sculpt in heroic scale like Reaper, Games Workshop and Dark Sword's other lines (heroic scale is larger heads/larger hands etc) and his miniatures tend to be a tad bit smaller than the other sculpters, so they fit perfectly into the building. For the interior we chose Irri – Handmaid and Female Courtesan, and for the bottom of the building sitting on boxes we chose Female Mage on Stairs sculpted by Patrick Keith, and she is quite bigger than the other 2 ladies, but we figured it wouldn't matter :)
It's the first time I ever take part in a painting competition, and I have no hopes what so ever of winning, but as I wrote in a previous post, you get 20% discount code just for participating :D which I will need for my river terrain board.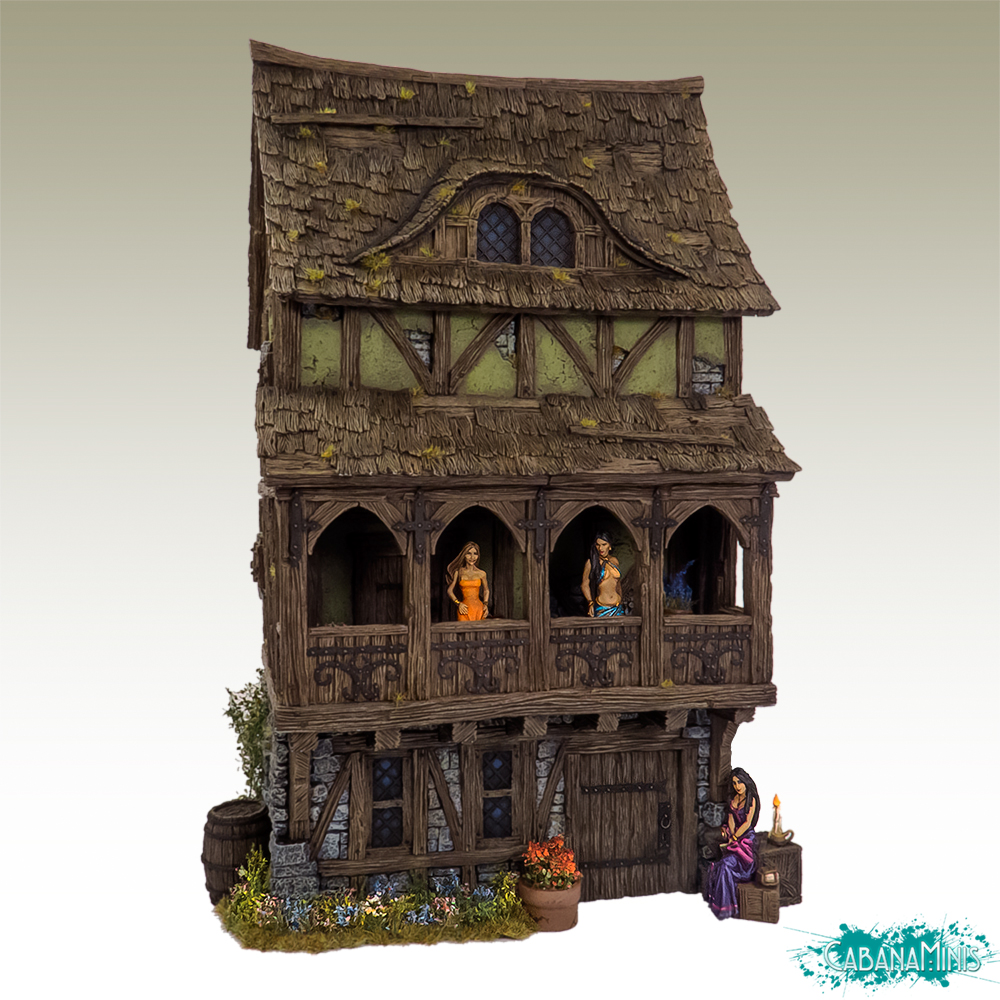 It actually started out as just being 3 beautiful women in a house, but when my husband decided it needed a bench with a book on the balcony, the only book that looked good was a book with a chaos star symbol on it. And so the story of the Alluring Sisters were born! They are actually witches luring men into their cozy townhouse which always smells like fresh baked pies (wonder what is inside the pies!!)
It wasn't initially part of the plan to paint the interior, but we decided it would be cool to show the theme of the project. So first off is the middle floor with a nice desk and furniture from Tabletop World, a large candleholder from Tabletop-Art, a Grandfather Clock from Zealot Miniatures and a cat from the set Edna, the Crazy Cat Lady from Reaper Miniatures.
Last but not least, the attic! We all have a creepy attic ;) and these ladies sure know how to decorate the top room of the house!
My husband really outdid himself with the altar! He used a ton of skulls for the base and half a table from Grendel for the altar. Book, candlesticks and most of the skulls are from Tabletop-art.
The wooden spikes are from Grendel aswell and the chain/heads are from our bits boxes.
I had a blast painting the altar, the summoning circle and the small table. The walls are painted with a mouldy effect, which gives the room a very eerie look!
We really wanted to paint the bottom room of the building too with a cauldron full of meaty bits and fresh baked pies, but we ran out of time and finished the day before the competition, so maybe some other time, who knows :-)