The past week I have made posts about townsfolk for our RPG, and I thought I'd squeeze in a few more, before I call it a day!
I'm going in for surgery this week and will be needing some time off afterwards :) nothing too serious, though. But probably for a week or two! Lots of time to play Divinity Original Sin 2 on our TV, and Gloomhaven Boardgame :-D
First off is the Middenheimer Young Blood. I already painted one of these with blonde hair and red dress and removed her weapons as an Npc crowd agitator. But I wanted to test my skills with subtle colours.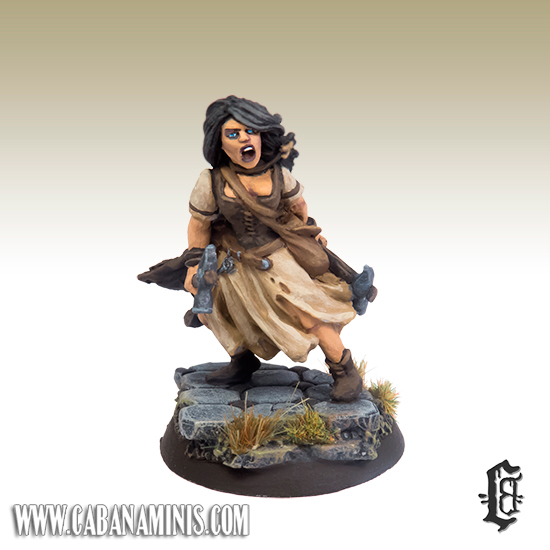 I used the same colour palette throughout the process. Darkest leather, shoes and fur is Muddy Soil, highlighted with Basic Dirt and Brown Sand. The dress is Brown Sand highlighted with Driftwood Brown, Stained Ivory and Yellowed Bone (and a bit of Khaki Highlight too) I used Tanned Skin mixed with Burgundy Wine for sharp contrast. All Reaper paints! I wanted her to look a bit dirty and not very polished and I believe I achieved that :)
Next off is "Lady Olenna "The Queen of Thorns" from Dark Sword Miniatures.
I took the opportunity to experiment with texture, and this is a rough example. I didn't have much of a plan with this miniature, only that I wanted an old cranky noblewoman, and I got what I wanted, hehe :) The Base colour of her dress is Deep Red highlighted with dots of Fuchsia. The purple cloth is Violet with Sandalwood highlights. The golden embroidery is Walnut with dots of Victorian Brass and Citrine Alchemy. Dots everywhere! All paints used are from Scale75.
I didn't spend a whole lot of time on the miniature apart from the dots, but she worked out okay. Not a masterpiece (like Jennifer Haley's version which is absolutely breathtaking) but she looks great on the game board, as the dots intertwine from a distance!