As it says in the title, I am working on quite a lot of projects at the moment. Right now our main goal at home is getting the gaming room done. We are turning a guest bedroom in our house into a room designed for RPG and board games (big nerd alert!), and it's really something! I will be making a project with WiP pictures and notes about the details.
Since getting a new house and a puppy at the same time proved to be a whole lot of work, I still managed to paint a great deal on the side! So when I get around to it, I will be adding a new project involving Forest Goblins with treehouses and lots of spider accessories + arachnarok spider and so on! Everything is converted and scratchbuilt, so it's very unique and impressing! I just need to take a lot of pictures and come up with a name for the project.
We moved into our new house in March and we haven't had time to play any RPG since, so we are looking very much forward to start playing again soon. And with the newly announced Warhammer Fantasy Roleplay (WFRP) 4th edition on the way, we are super excited to see what Cubicle 7 can dish up! We use or own rulebook and system, but fluff and ideas are always welcome!
The next campaign will start in a shabby fishing village (most likely in Talabecland), so we need some new props and terrain for such place. The village is influenced by Flotsam from Witcher 2 video game, which suits our grim and perilous playstyle.
House Boat docked at the village
Permantly docked is this ship from Thomarillion, which has been completely covered in various bits and pieces. My husband is the genius behind the conversion (I just painted it!), so credit really goes to him. He used several stacked crates and barrels from Tabletop-Art, pieces from Lake Town set from Games Workshop, Ristul's Market, Freebooter boat accessories, some jewelry and much, much more from our bits boxes. The mast is scratch-built with some string/rope attached!
Here is a few Work in Progress of the ship
For the Boat and some of the wooden barrels I used this combo of Blackened Brown, Brown Leather, Orange Leather, Sandalwood, Driftwood Brown and Thar Brown from Reaper and Scale75. The Scale paints are very good for drybrushing. Sandalwood is a really creamy colour, which I like a lot. I also use it to highlight Ashen Brown from Reaper for a vague pink-brown colour.
The boat in all its splendor!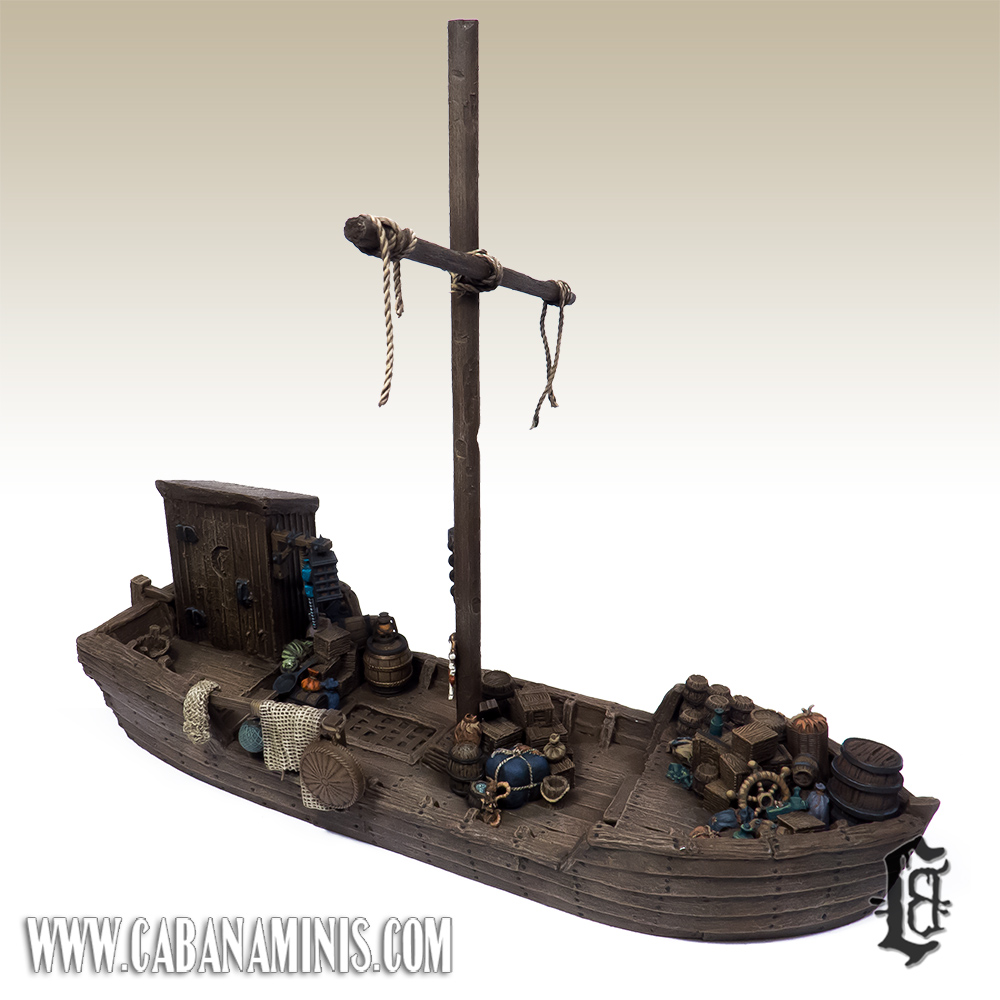 Despite the fact that the boat could have had more weathering to it, I'm satisfied with the result! The shack is obviously a toilet, but we thought it as the idea of a person who converted a toilet and added stairs for descending into the hull :-P
I've also begun painting the Micro art studios Fish market and extra crates. The scenery pieces are huge, so I might add some minor barrels and such to the pieces to make them appear less gigantic, and so that they can fit into my other market stands. The large crate pile with the dangling fish, came riddled with holes (air bubbles), which requires some heavy modifications, but I think it will end up really cool :) I love the squids!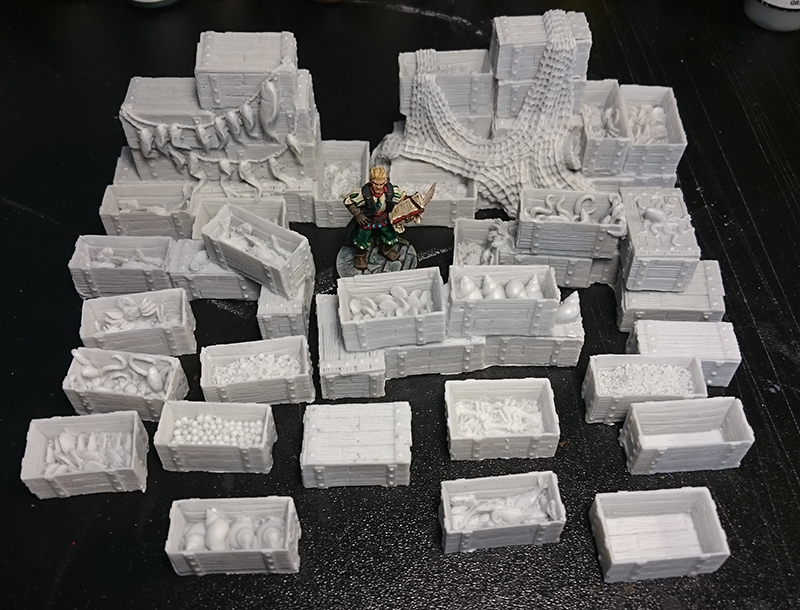 More projects to come and much more minis! Just need to squeeze some photographing into my busy schedule!