As you might know, I paint a lot! Usually it's 28mm miniatures on 25mm round bases, terrain, or monster miniatures on large bases etc, since I either use them for Rpg's or sell them. I rarely get to paint something decorative with scenic display or anything like that. Mostly because we live in a small apartment and our number of miniatures is pretty high (though you can never get enough of them!)
My niece really likes my miniatures, and I thought I would paint something nice for her as a Birthday present. So I got to paint a nice display mini :-D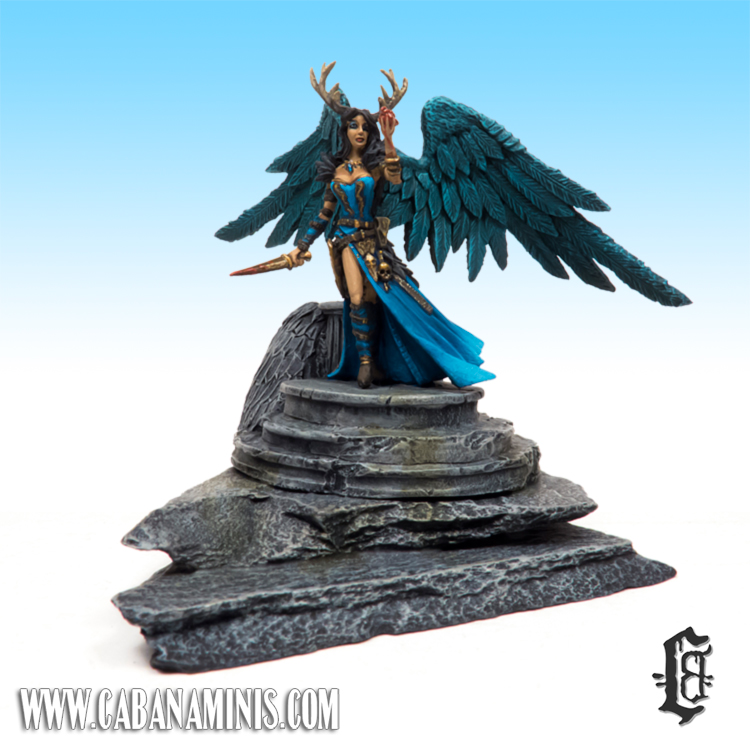 I mounted the mini on a solid stone plinth with a good grip (for easy handling, she is 9 after all :) The mini is the "Jessica, Keeper of the Glade" from Dark Sword Miniatures and is scuplted by Jeff Grace. I initially wanted to paint the "Marike – Guardian of the Sea", but the details are pretty immense, so I settled with this one and painted it very high fantasy with vibrant colours and even peacock feathers (only on the backside since I was afraid it would look too messy on the front) My niece thought the blood was a bit nasty, but it is part of the mini!
Here are some more shots of the miniature! Snapped a bunch of pictures before the birthday :)
I decided not to add anything to the base apart from a bit of weathering, since I wanted the miniature to be the main focus. Only downside is that the mini is 28mm scale, and the rest of the family (the older part in particular) had a pretty hard time spotting details unless it was underneath a lamp :-P Will look great on a shelf anyway!
The miniature was painted using Scale75 and Reaper paints (especially the Ocean Colors Triad)