I have been painting all kinds of outdoors beasts and monsters, which will be part of our newly begun adventure campaign, that takes place outside of Middenheim. As our heroes are escorted by an accountant on her way to Dorfmark (City in Nordland), we are quickly thrown into a political scandal involving a suspicious Burgomeister and numerous raids on local lumber mills. The raiders are humans, but something sinister lurks in the shadows and the beasts are on the prowl in the Forest of Shadows. Several twists have already taken place (despite only 2 sessions!) so I have been busy painting all kinds of beasts for the sessions (as I don't know for sure which ones will be used as I am not the GM)
Here are some of the larger Centaur creatures of the Beastmen Herd: Centigors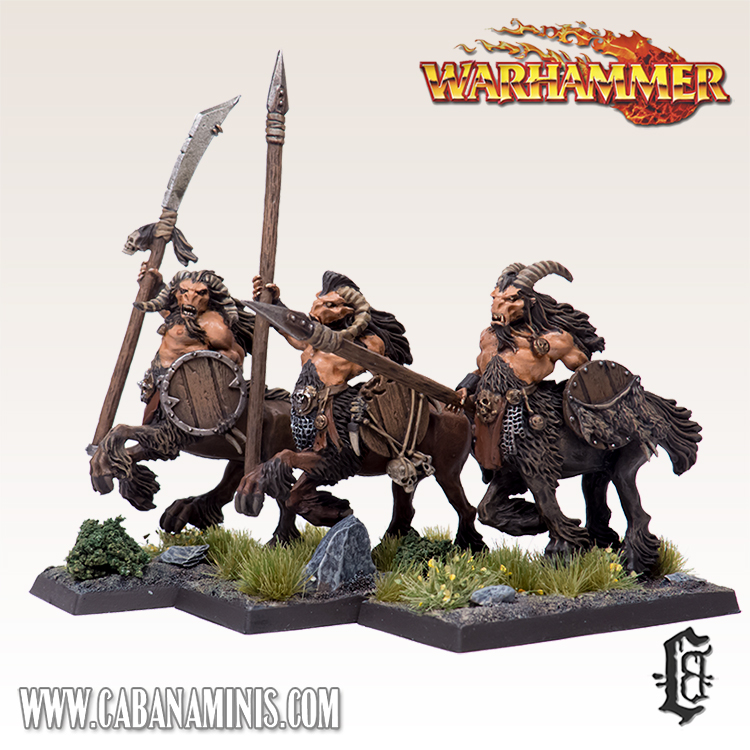 I had fun painting these and I went through a lot finding them in good condition and of course in metal, but I ended up with a bargain on Ebay, so everything went smooth in the end. I actually have 2 spare ones as I ended up purchasing a whole set in its original box. As these are heavier than they look, there was no way I could mount them on top of scenic bases, so I had to make my own using very fine sand, rocks and foliage. My husband is the base master, so I let him decorate them. I asked for a forest look in mainly green colours and I got exactly what I wanted.
Here are a few more pictures of these cool creatures:
I painted them in different colours, as I spent some time experimenting (as usual) I like the "Ginger" one best, that's the one in the middle. I also experimented on their horns. It worked better on some than others, but from a distance it looks awesome and they look very frightening on a gaming board with forest scenery!
Oh and the original metal figures had ridiculously small shield attached, so I filed/cut them off and put on shields from the Ungor sprue, and it really helped the overall look.
Here is an official Games Workshop picture with "small shield" versions: