Been a while since my last Zombicide post and I still have loads of painted heroes and zombies waiting in line. It's a good thing though, since I haven't even started on all the new boxes I bought recently (including crowz and special guest boxes I didn't buy from the Kickstarter!)
Here we have the 3 exclusive Necromancers which were only available during the Kickstarter. Most of the exclusive miniatures have some sort of connection to movies, books, comics and TV.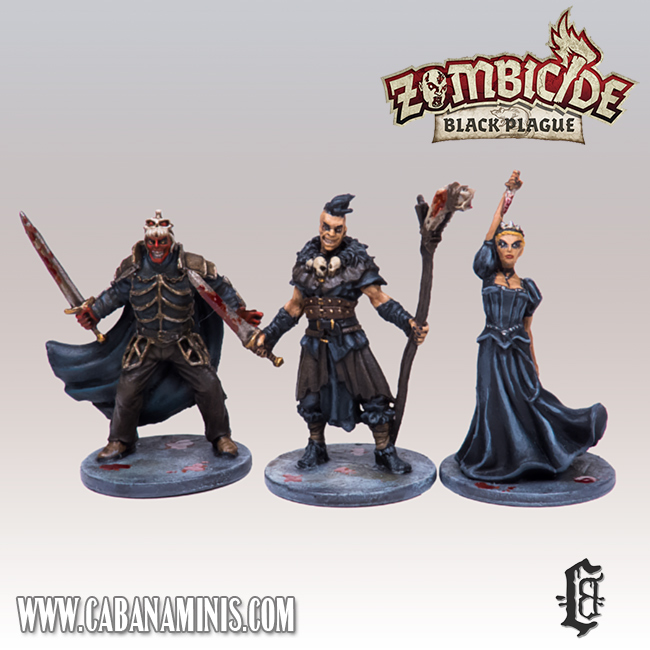 Here we have (from left to right) Evil Troy (Bruce Campbell's Evil Ash counterpart from Army of Darkness), Grin (Medieval Joker) and Queen Medea (Charlize Theron as Queen Ravenna from Snow White and the Huntsman)
All of them have unique Necromancer Cards. Medea cannot be killed unless she is the only zombie in her zone, Evil Troy can be killed as normal but he will resurrect each turn unless he takes 3 damage in one blow and whenever a zombie in Grin's zone activates, he activates aswell, making him a quick SoB who needs to be taken down immediately! We usually include all the Necromancers including the extra core one that was included in the kickstarter aswell + Ostokar from the Special Guest Box by Naïade. Really stressful ending up with 6 necromancers, but that's part of the fun!
I used very exaggerated highlights on Queen Medea to make her dress seem "silvery" like her artwork. I painted Grin a lot less bloody (his face is bathed in blood in the artwork as the Joker's make-up)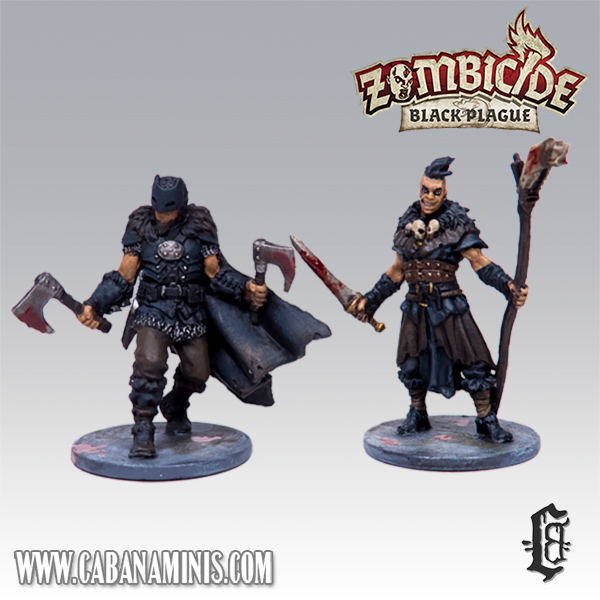 Here is a photo of Scowl (Batman) and Grin (Joker) side by side. I really like the way they made the Kickstarter Exclusives unique. Still a shame that they aren't available to retailers, as the miniatures really deserve a re-run.
Ye Old Inn's Blogspot site has made a complete list of the characters and their respective counterparts with artwork and description. Find it Here – It's good fun :)
Last but not least! Here are the artwork and description pictures of the Necromancers!