Phew, been so long since I last posted. But at last we have now unpacked everything, and everything in the house is working! And my painting table is all set up with loads of HobbyZone modules (pictures come later!)
And we will be picking up our new (and cutest in the world) puppy this Sunday! I hope I have time to paint, cause I have a sneaking suspicion that I will be quite occupied by the little rascal.
Anyways! A few years ago I bought a set of Fenryll's Banquet Table to paint for a customer (I actually bought 2, because an arm was missing and the table was broken in the 1st box) a little expensive, but I thought I would have this made in a short while… Boy, was I wrong! I ended up dropping the whole commission, because the time involved making the banquet scene would make the price ridiculously high, and gluing all the tiny pieces together would take somewhere around 8 hours…
So a few months ago, I picked up the set again, because we needed something like this for our tavern scenes. I am now very happy with the decision of dropping the commission, because this took me and my husband a huge amount of time. The result however, is absolutely amazing and brings so much life to our RPG!
My husband assembled the banquet table, and since we decided to keep both sets, we agreed to go all out on accessories. While I assembled and customized the party guests (my husband helped too) The arms are ridiculously long, so I had to shorten those. And fixing them on the benches, my husband put together the table itself with the use of all our bitz boxes. We each spent atleast 8 hours that day, so that's quite a lot!
Here's a few work in progress pictures of the table:
As you can see, there's a heapload of stuff on it and from so many different companies (Fenryll, Ristul's Market, Thomarillion, Maxmini, Fredericus Rex, Tabletop-art and a few Games Workshop items).
Only slightly bad thing is the crazy amount of time it took painting it. I didn't count the hours, but I spent many evenings painting it. I went for a dark tablecloth to highlight the feast :-)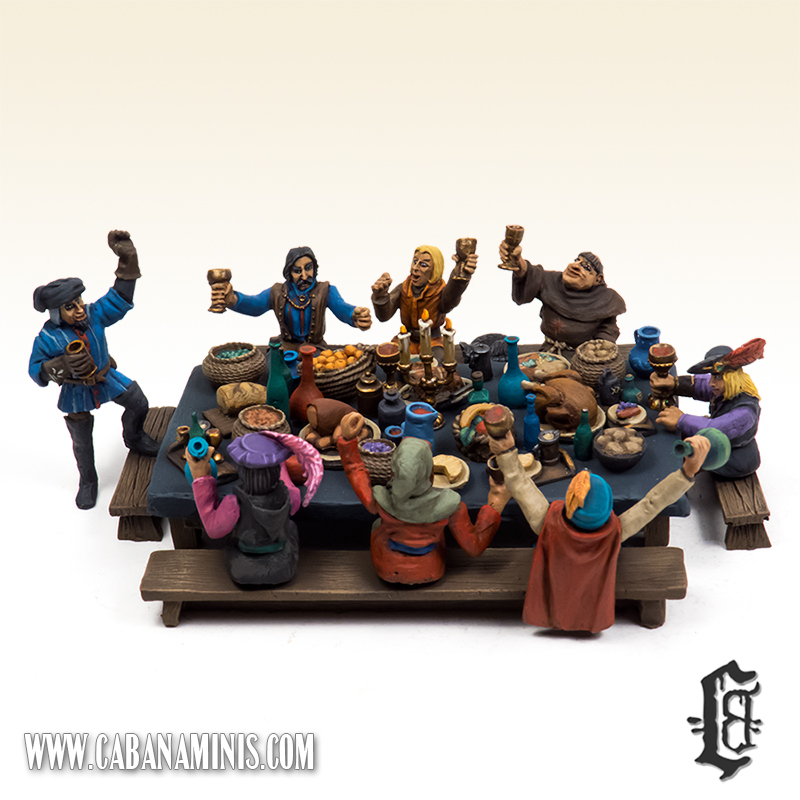 I painted the party-goers in many vibrant colours and the man resting his foot on the bench to the left, resembled Roche from the Witcher games, so I painted him accordingly!
All the benches can be used in a variety of ways. We didn't glue them to the table, so we can use the table alone with RPG heroes and characters for a session, or we can use the benches for street scenes, church pews with happy people, or up against walls in taverns for a more rich scene!
The banquet scenery looks amazing in our dioramas. I will need to take some more pictures along with some of our other tavern scenes!
I still have 8 characters left from the other set and some benches from the kitchen set to make more of these guys, but all in good time :)