It has been waaay too long since my last post and the reason, you ask? Vacation and preparing for vacation! As small business owners, my husband and I rarely stop working and when we do, we spend time on our hobby (which is also our work. Cool, right?)
But everyone needs some time off and we have been lucky enough to have a vacation house by the beach at our disposal for a whole month! This has really given us the break we've needed for continuing our work on a whole new ruleset for our own RPG game which is set in the Warhammer Fantasy world (Pre-Storm of Chaos and Pre-End-time, obviously!)
It has been a while since we've used an official ruleset like WFRP, D&D, Pathfinder etc, because we always end up house-ruling a lot.
We have decided to test these rules (just the two of us) while we are on vacation, and since we have all the "props" and miniatures at our home, we had to bring a limited amount of miniatures in a good old Gw army-suitcase. So as you can see on our session pictures, we had to improvise… A lot! (The pile of green Nurgle-tokens is supposed to be a disgusting pool of slime, the green tablecloth is grass etc). The people next to/on top of the cages are victims which are supposed to be inside them, but I didn't have the nerves to squeeze them in there!
Sorry for the less than professional pictures taken by my mobile phone :*-) but I thought it would be fun to put them up for people to see. I'm always curious myself when it comes to how people play RPG's!
The tiny shiny dots on the table are range increments which makes sense when playing!
The heroes are looking for a dwarf (long story) but he had somehow escaped the Beastmen camp and was no where to be found. The heroes decided to save the other prisoners now that they were there, anyway :-P
Here is another picture after the heroes found the dwarf named Snortek. He was hanging head down from a tree while being interrogating by bandits.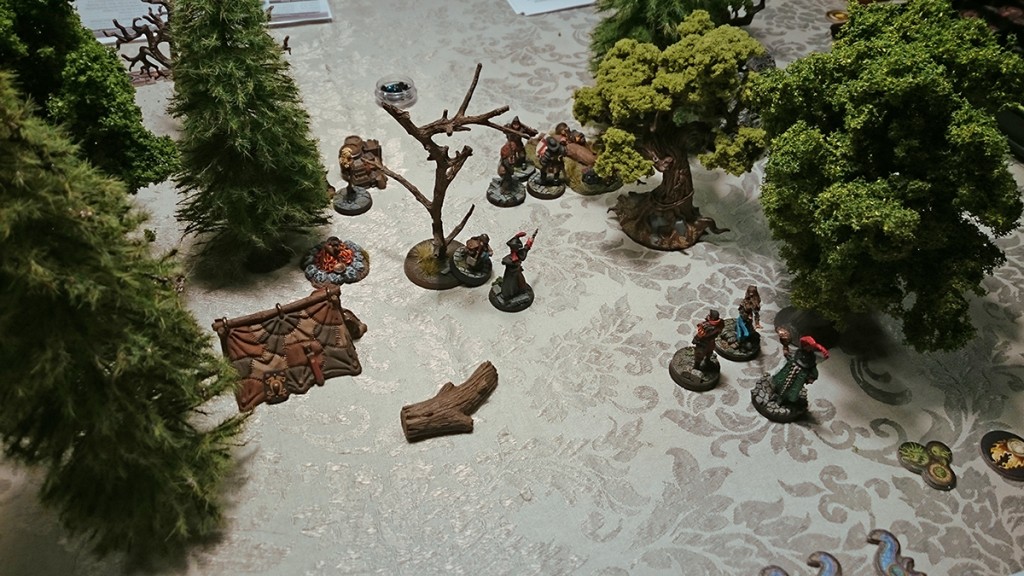 I'm glad we brought all the trees cause they really spice up the whole thing. The fir trees are incredibly lifelike and well made. We are already selling a lot of 4-ground trees in our shop, so we will definately be selling these in our online store aswell. I will be adding a bit of paint to the visible parts of the trunks when I get home, but they really outshine my old Games Workshop trees.
Another thing that really helps our players to get into the RPG spirit are props! Instead of having papernotes lying around, we use books which look really great on the table! Not only do they look amazing, but it is also a great way to gather all the notes! Some of our props are cheap remakes from China, but others are actually real antiques.
Here is a picture of just some of the things we bring into our game.
We have several of the Warhammer dice cups so each player has his/her own :-)
And right before we went on vacation, we received the collector's edition of Total War: Warhammer, which included the most insane Book of Grudges replica and loads of other high quality props (the drinking horn is epic)
Oh well, turns out my little vacation update turned out bigger than expected! We will be getting home and back to work in a few weeks and then I'll have time to write a whole bunch of posts!