Since our puppy is taking a long nap (been at the beach today!) I thought I could squeeze in another post! Have some pictures of Kickstarter Exclusive Survivors and the 3D doors we bought as an add-on ready for a show off :)
Since there is are more than 20 Kickstarter Exclusive Survivors I decided to group some of them up in teams for their picture. I've already shown Scowl and Evil Troy, Grom and Thalia, aswell as the Monty Python Ensemble in earlier posts, so here is another 7 Survivors!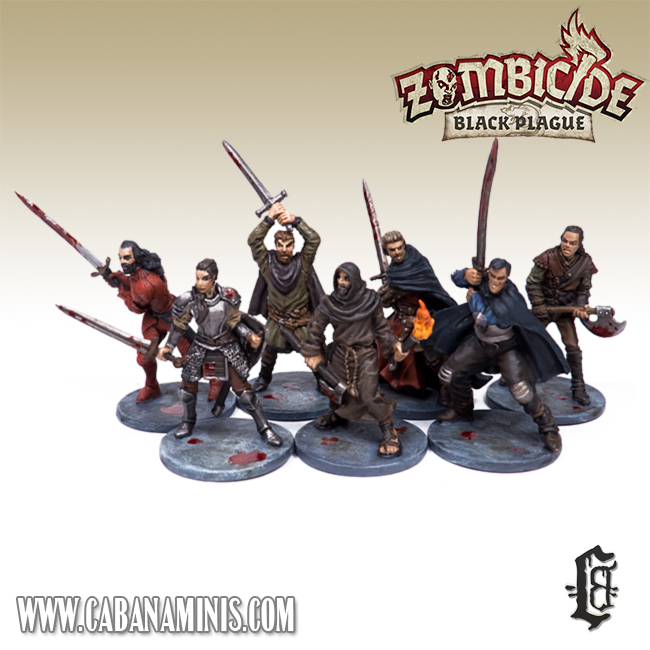 From left to right we have Falstaff (Gary Oldman – Dracula), Lady Faye (Kristen Stewart – Snow White and the Huntsman,), Lucas (Liam Neeson – Kingdom of Heaven), James (Sean Connery – In the Name of the Rose) William Bleak (Sean Bean – Lord of the Rings), Troy (Bruce Campbell – Army of Darkness) and Paul (Chris Hemsworth – Snow White and the Huntsman – without beard!)
Also from Snow White and the Huntsman is Queen Madea (Charlize Theron) in a Necromancer version. You can find it in my Kickstarter Necromancer post here.
Iconic Dungeon Doors
The 3D Door set available at retailers, is a great addition to the game as it makes the doors much easier to see! I painted some of the doors Blue and Green to indicate the locked doors. Normal doors are painted various browns. Here is a small selection of the many doors painted for the set (you need a lot for some of the scenarios!)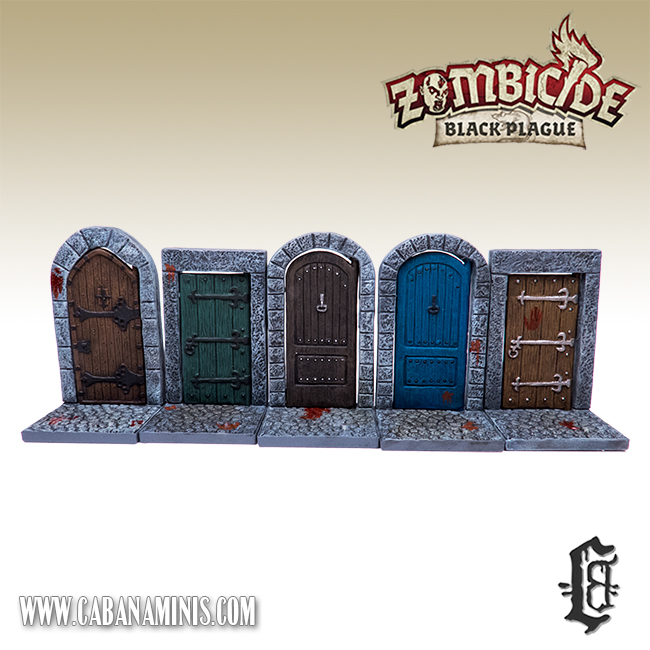 We seal all our Zombicide Miniatures with an Acrylic Varnish Primer from Vallejo (Spraying them in a fine matte coat) to protect them, as many of them end up in a pile throughout the game. You lose some of the details and vibrant colours when doing so, but I think it's worth it in the end! Besides, you can always add some highlights and glossy blood afterwards! The doors were no exception and we gave them several layers of varnish to prevent paint chipping off when opening/closing the doors (yes they are fully functioning!)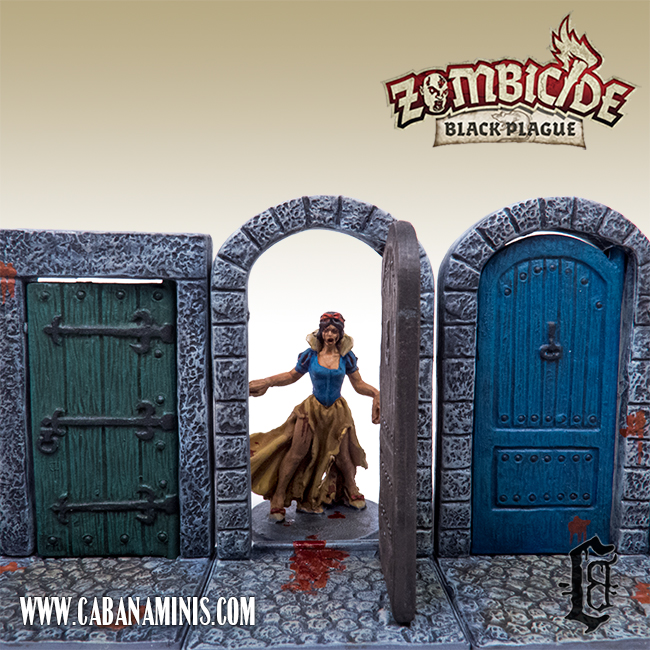 As you can see, Snow White is ready to invite you in for a snack (the snack being you!) :-D
Stay tuned for more Exclusives!